Polyurethane High-pressure Foaming Mixing Head
History of Mark VII type series Mixing Head
The development and marketing of our company`s Polyurethane High-pressure Foaming Mixing Head date back to 1977. At first, we manufactured the Mark-III type mixing head which had been well received by many users as being excellent in mixing, metering and durability. Later we launched the Mark VII, a result of our company`s great effort to accumulate technological innovation and to pursue even higher up-to-date functions to meet diverse needs of our customers. This series is well-known among a large number of domestic and overseas major customers (the automobile, refrigerator, insulation and building materials) and continues satisfying users as a super durable and adaptable to a wide range of mixing head applications.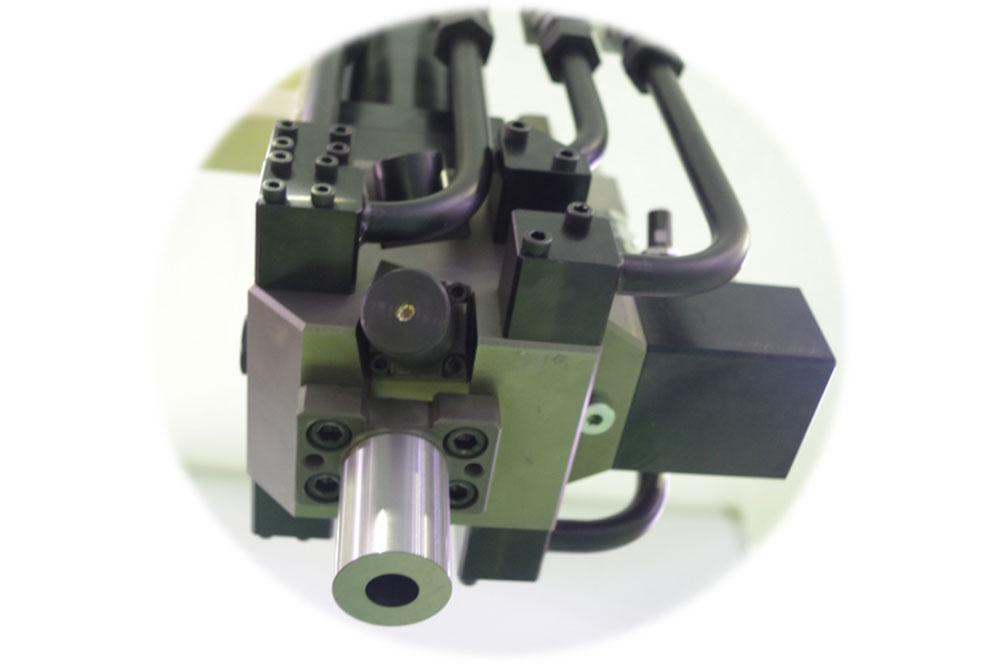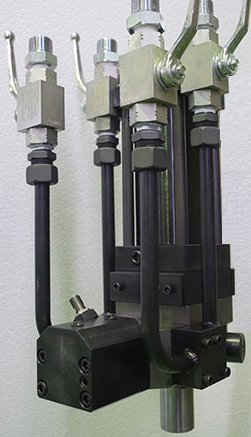 Mark VII 2C type Two-component Polyurethane
High-pressure Foaming Mixing Head

This is a compact, handy, and easy to use mixing head with simple maintenance procedures due to its uncomplicated design structure. Its size makes it suitable for small and large capacity production lines.
It is the optimum mixing head for a wide range of car-related products made of flexible and semi-rigid foam such as an instrument panel, a dash silencer, a car seat, a headrest etc. Additionally, it is well utilized for the rigid foam in the productions of refrigerators (commercial refrigerators, freezer showcases etc.) and building materials (insulation panels, sidings, roof panels etc.). It is also applicable for RIM molding, a closed mold injection.
Mark VII 2AC type Air-blow Cleaning Two-component
Polyurethane High-pressure Foaming Mixing Head
Mark VII 2AC type it is a compact two-component mixing head, of 11kg weight and the mixing chamber with an air blow type cleaning of the PU residuals. It demonstrates a great power and handy operability. It could be freely operated with a manual balancer due to its lightweight and simple instructions. It is commonly used for insulation panel and industrial refrigerator injections.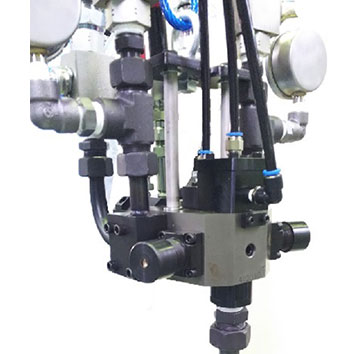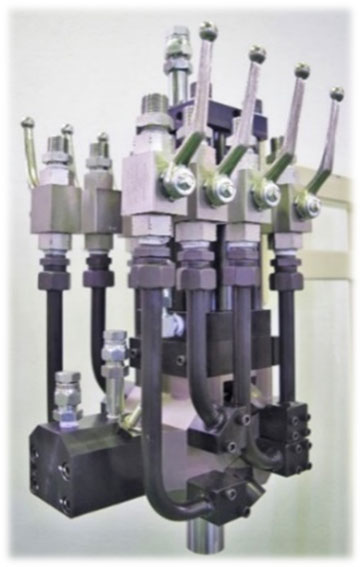 Mark VII 4C type Four-component Polyurethane
High-pressure Foaming Mixing Head
Mark VII 4C type four-component mixing head is the best solution for the multi-component mixing productions line, e.g. three Polyol + one Isocyanate formulation process. Only this mixing head enables an excellent mixing effect of more than two-component production.
Mixing Head Optional
Balanced Pressure Discharge Nozzle
The nozzle always maintains discharge pressure constant despite the fluctuating discharge rate.  It responses automatically to a flow rate changes (increase /decrease) by the metering pump for each injection.  The standard specification of the discharge nozzle is a fixed discharge pressure type.