Polyurethane Low-pressure Foaming Machine
type MEG-NE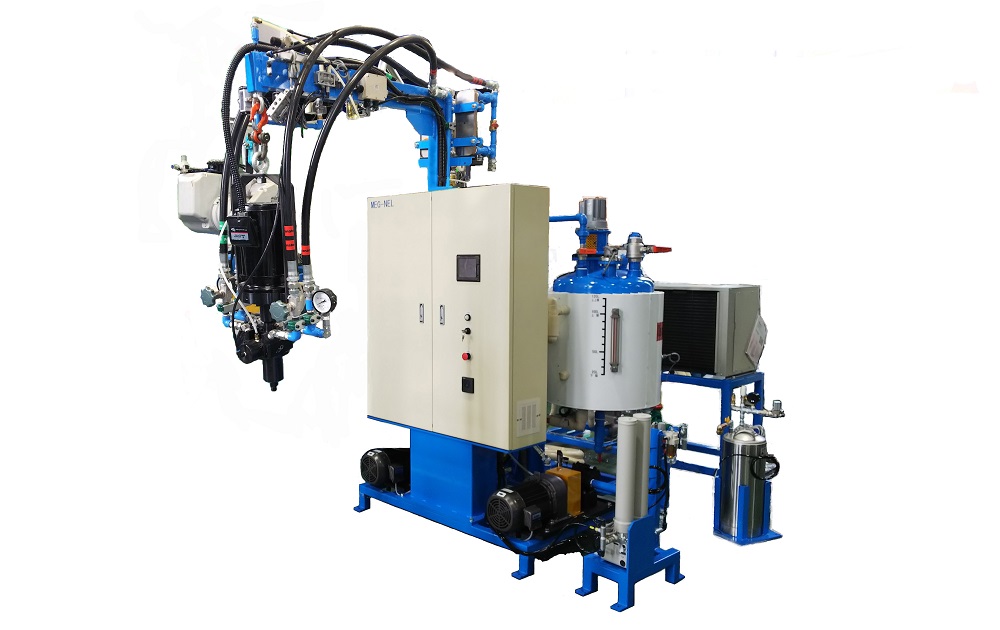 Available in a motor-driven mixing rotor or non-driving air mixing type
MEG-NE is a highly efficient two-component Polyurethane
Low-pressure Foaming Machine developed and
manufactured by MEG-MARUKA KAKOUKI Co., Ltd.
This type MEG-NE consists of the following devices and
components:
– 1 set of LB type mixing head which has a good mixing performance
– 1 set of the highly accurate metering pump unit
– 2 sets of raw material tanks made of SUS
– 1 set of the SUS-made solvent tank
– 1 set of the control panel
1 set of temperature control unit for the raw materials.
Applicable to a wide range of polyurethane rigid foam,
semi-rigid foam, flexible foam and other foams.
This type is especially recommended to a customer who wishes to
newly start foaming work of polyurethane or small or medium scale production.
Mark-LB type Motor-driven Mixing System Features
Mixing rotor and chamber designed prevent air entrainment due and dripping of residual liquid
A highly efficient mixing rotor shape – the high precision mixing of the different velocity level raw materials ( low to high)
An air-driven ejection device for an accurate ejection
Backflow prevention device that can completely seal the materials
Solvent flash mechanism with a good cleaning effect
Easy maintenance and disassembly processes
Cost-effective operation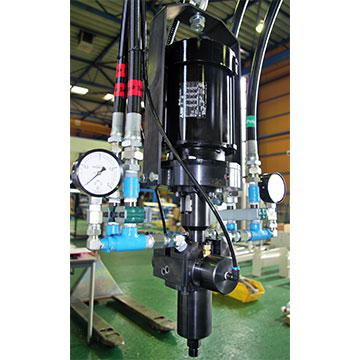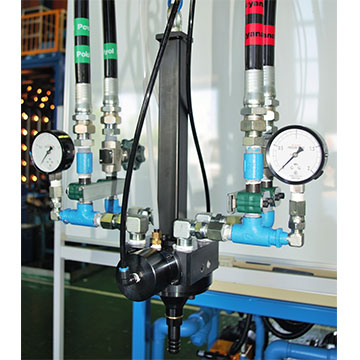 Mark-AM type Air Mixing System Features
Optimum foaming function for insulation and building material panels
Compact operation and easy maintenance due to the lightweight simple design
Mixing air adjustment function makes it compatible with a wide range of raw material characteristics
Good raw material mixing due to the high performance special fixed type air mixer design
Spare parts cost-effective operation
The types of MEG-NE and Specifications
※Mixing ratio spec; 100 : 100
Type
Minimum pump output capacity
ℓ / Min
Maximum pump output capacity
ℓ / Min
MEG-NE-S
1.5ℓ/Min
3.0ℓ/Min
MEG-NE-I
2.0ℓ/Min
8.0ℓ/Min
MEG-NE-II
6.0ℓ/Min
24.0ℓ/Min
MEG-NE-III
12.0ℓ/Min
48.0ℓ/Min
※Mixing ratio of polyol / isocyanate 100 to 50 is also available upon request.